Collecting and Buying Values - Asian Antiques

A personal view by John Neville Cohen

(Written for publication in 1995)
As rather specialised collectors over a number of years, we have managed to form collections of netsuke, inro, lacquer boxes, snuff bottles, Chinese pendants, jade and hard stone carvings. I am very lucky to have a wife who shares my interest!

Most people will not have any idea what these things are. We like to think that on the odd rare occasion when we might have some of these antiques at home, if the average burglar were to break, in and find them, the chances are that it would be the video machine or the TV that is more likely to be taken. Should a burglar try to sell such antiques, especially the finer examples, he would not find it easy. Not only are all pieces well documented but also both dealers, collectors and auction houses all belong to an International Collecting Society and word would soon be out. Such important pieces are bound to be recognised eventually, and could provide the police with a valuable lead back to the culprit.

Value For Money
To quote current prices would be quite meaningless, not only is each piece a unique work of art, but there are so many other factors that will influence the value. The quality and condition have to be considered, as does the importance of the artist, or provenance. So how can I possibly write about buying values? What I think is interesting and what I hope will prove more useful, is the question of comparative values. I have thought of relating the price of a good netsuke to the cost of a first home. This was not far out when I first wrote this article, or to so many times the annual wages of an average secretary, perhaps well known cars could be used, such as the price of a mini or Rolls Royce. No, this is not really what I had in mind!

A comparative value as applied to skills of craftsmanship is something I do find of use. There are some limitations however. For example one could not value paintings this way, otherwise a few lines by Picasso would never justify being worth so much more than pictures with more intricate applications of paint. So artistic merit has to be another factor.

One must also appreciate that all prices are dictated only by the market place. If demand is great prices go up, if not, they go down. This applies to antiques in just the same way as to all other commodities. However having had many years' experience as a collector I have hardly ever seen prices fall in our fields of interest particularly with the finer quality pieces. What has happened on the few occasions when I thought that prices had reached the highest point possible, was that the following year even higher records were broken. The larger jade carvings have not proved as successful, this is the only area that has been affected by less demand, and really what seems to have happened is that prices have remained static for far too long.

Craftsmanship
There is an element of fashion in collecting, and at the moment, as has been the case for quite a long time now, small is beautiful! So the smaller items like most of the antiques we collect are in very big demand. There is more to it than that however; all the antiques we collect represent such amazing craftsmanship, the like of which is certainly never likely to be produced again. With so many keen collectors, now established all over the world, searching for the very limited supply of fine pieces, I am convinced that this is no longer likely to be subject to any change of fashion. Although the larger jade pieces do not sell so easily, there are certain exceptions: very valuable pieces that appeal to the Chinese taste do sell well in the Hong Kong sales, but the European market is very poor. This is something that could suddenly change, and I believe it will, particularly as the larger carvings appear better and better value for money.

Relative Values
At certain times in the past we have changed direction concentrating our collecting in quite different areas of oriental antiques, why? The real reason has been due to what I am calling comparative values. These are where I constantly evaluate and try to compare the craftsmanship involved, to relative value.

To explain what I mean, we once stopped buying snuff bottles for a while. This was partly because the prices had suddenly escalated at such an incredible rate that it was very hard to accept paying so much more for just the same quality. There was also another reason, for about this time I had discovered and become aware of very fine Chinese pendants. The same artists who had made the bottles made these.

The first one we bought was an exceptional piece and had a lot of appeal, especially as the price was less than half the cost of a similar quality bottle!

That is how collecting pendants started and I was soon to realise that really fine pendants are surprisingly much rarer than top quality bottles. The search was on and whenever I found one the price was still much lower than an equivalent bottle. The photograph shows a bright emerald green jade pendant of lotus with bamboo on the reverse.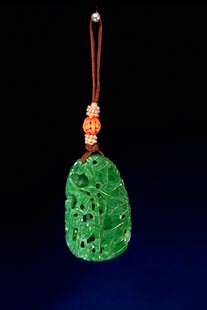 Luckily my feelings about comparative values have proved justified as pendants are now beginning to catch up with the prices of bottles. Meanwhile, we have probably created the largest collection anywhere, as very few other people have concentrated on collecting them.

Netsuke and Inro
Japanese netsuke are superb little carvings made out of ivory and wood, as handling pieces or toggles. They are often only about an inch high, yet some are very powerfully carved and full of character, each one has a couple of linked holes for a cord to be attached so that they could be used as a toggle. They were most often attached to an inro. The photograph of the wood netsuke of a mouse is signed Tomakazu and the inro is by the master lacquer artist Shibata Zeshin depicting rats stealing eggs.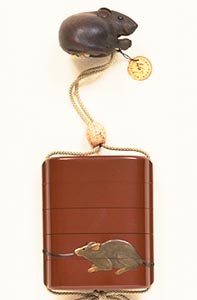 So what is an inro? These are finely decorated lacquer containers consisting of a number of interlocking compartments held together on a cord. They were used for carrying such small personal items as seals and pills and became fashionable with the kimono.

They had no pockets so the inro would be worn hanging from the sash; the netsuke was pushed up under the sash and thus held the inro in place.

Japanese lacquer has to be seen to be believed, as it is a very difficult medium to work with and a time consuming process. Not only does it involve building up a very large number of layers before any decorative work can be introduced, but there are several different very fine skills required in completing the decoration. Techniques involve coloured lacquer, shell inlay, metal work and amazing applications of gold.

In comparing netsuke with inro prices relative to craftsmanship, one would have to say the amount of work in the creation of a netsuke, is so much less than the time, effort and skills devoted to the creation of an inro. Yet fine quality netsuke command more than double the price of fine inro. This being the case I would continue to buy Japanese lacquer. One is not comparing exactly the same type of skills and craftsmanship, but netsuke do belong with inro and many collectors of netsuke are also buyers of inro.

Further more in forming our own collection we realised some years ago, that small lacquer Kogo or boxes were not costing anything like as much as inro yet the same craftsmanship was involved. The same artists just as beautifully made them, so as I expect you guessed, we stopped buying inro for a while and bought lacquer boxes instead. We have no regrets about that decision. Photographed below is a lacquer box in the form of two boxes, one carved red lacquer as a crayfish the other with gold shells each gold flake forming the background has been individually placed.
When considering jade, little snuff bottles and pendants are relatively far more expensive than the larger jade carvings, for the amount of work and stone one acquires, although the quality might be equally high. Years ago this was not the case, but now you can buy fine large carvings for not much more than you have to pay for the best little handling pieces.

These carvings are to be found in numerous forms such as animal sculptures, figures, bowls, boxes, screens and boulder carvings. There are some remarkable vases with lids attached by a chain, that can consist of a large number of links, all carved out of the one piece of rock. This is quite amazing when one appreciates how hard and difficult jade is to carve. The celadon jade chained vase and cover pictured, has a phoenix amongst flowers and foliage carved from the natural russet colour found in the stone. Two fine stone snuff bottles are included to show the comparative size.
Some fine pieces are of a good colour and flawless material, others make good use of natural colours and markings found in the stone. The quality of the carving in the 18th century of jade was really superb and even some of the early 19th century pieces are very fine, and in my view there are some good bargains available.

Our Own Collections
We have formed collections in all of these areas. Our first interest was in the Japanese lacquer inro and later we turned to lacquer Boxes. I recall attending an auction having been collecting lacquer for some years. I came away without buying any of the works I was after feeling staggered at the prices and wondering what we could hope to collect in the future.

On the one hand I was pleased to think about what we already owned, but at the same time I felt that these prices meant we could no longer afford to buy anymore. For a collector a very depressing prospect!

Feeling rather frustrated I decided to look around various antique shops to see if anything else would catch my eye and it did. I came across Chinese snuff bottles, and the stone bottles particularly intrigued me. The snuff bottle pictured is a well-hollowed mutton fat jade bottle carved with a continuous design of archaic symbols 1736 - 1795.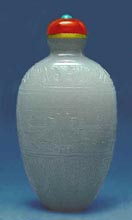 Not only have they formed beautiful bottles that are incredibly well hollowed through a tiny hole in the neck, but also they managed to create pictures on some of these bottles from natural markings or inclusions found within the stone. So here was a new area that needed a lot of study, which was worthwhile as I was fascinated and the prices were more within my reach.

We also grew very fond of jade and occasionally bought a larger piece that seemed very good value when compared with bottles.

Later as already mentioned we collected Chinese pendants, but I still have been tempted to buy the occasional lacquer inro or box! Each time we concentrated on a new area did not mean that we ignored our earlier interests.

There are other considerations that influence values. Any antiques are greatly enhanced if published and illustrated, especially if they also have some provenance. The fact that a well-known collector once owned a piece certainly puts the price up!

Auctions and Dealers
As for buying, on attending auctions I always allow enough time to visit and explore the main dealers' stock, both before and after the sales. This way it is possible to assess what quality items are available and the prices being asked.

After a sale one can sometimes find that a dealer might have a similar quality piece or even a better one for much less than has just been paid! A note of caution here, sometimes a really silly price is paid in the auction room simply because two determined people badly wanted a piece. In such a case of course, that value has to be discounted to a certain extent.

Strange things do happen at auctions! I have noticed that if there is only one spectacular piece amongst some fairly good items, there is a good chance of picking up a bargain both just before and just after the really super piece. Before, the main buyers are often holding back hoping they can be in with a chance with their maximum bid, so they tend to stop bidding as high as they might have done in normal circumstances. After, because everyone is discussing what has just been paid, especially if a record price was reached, all this can be going on whilst another piece is sold.

There are also items known as 'sleepers' and often these are pieces that slip through at bargain prices, just because no one present required it or for some reason it was overlooked.

Attending a poor auction, that is one with hardly a good piece in it, can be advantageous if there is a fine example to be had. This does not happen much now.

Sometimes too, but not often, a piece is wrongly described. Then one can really find a bargain. We were lucky once and now have a jade bottle that is so remarkably well hollowed and such a flawless piece of stone, that it was in fact sold and catalogued as glass!

Bargains
So many collectors begin with the view that they will only buy if they are satisfied that they have found a 'bargain'. Whilst this was possible many years ago when believe it or not, netsuke and snuff bottles were sold in lots, that consisted of six or more at a time, these days it is far more difficult.

Looking back with the advantage of hindsight over the years of collecting I have come to realise that surprisingly, our very best bargains were more often than not, our most expensive purchases. These were the outstanding pieces that we just had to have, even though at the time the prices often seemed quite outrageous.

I worried about having paid too much on several occasions. They were very rare, superb examples, but still I worried. These are now the treasures that have proved to be the most wonderful bargains of all!

Buying Guidance
The best advice for anyone tempted to collect would be to study the subject first, attend auctions, meet the dealers, handle as many pieces as possible and be prepared to commission a specialist to bid for you. You would have to expect to pay 10% of the bid for this service.

Unfortunately it takes years to acquire the necessary expertise, without which very costly mistakes can be made.

Beyond Value
Lastly, there is one comparative value that I have not mentioned and I feel right in keeping it back till last, as it is impossible to measure. The value of the pleasure one enjoys from such a fascinating hobby is hard to describe.

You meet such interesting people from all over the world for there is an immediate bond amongst fellow collectors, except when we meet at the beginning of an auction!

Then there is the intrigue of the hunt and the excitement at every new addition that only another collector can fully appreciate. Life is so enriched, I do believe that hobbies are vital, and so many hundreds of people who have hardly any outside interests beyond their world of work, have no idea of just how much fun they miss!


John Neville Cohen: An International award winning photographer who also became a well known Asian antiques collector and an enthusiast of Jensen British classic cars. Other interests are skiing and Salsa dancing. The author has been a very keen collector for many years in helping to create 'The Cohen Collection'. Please have a look at: - https://www.jncohen.com
To see other articles, with photographs, please use the following link: https://www.jncohen.com/Articles/articles.htm